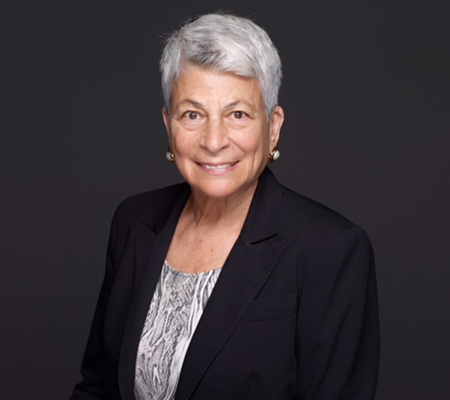 Rita M. Bank
Retired
202 530-3300

RBank@AinBankLaw.com

V-Card
Rita M. Bank was a principal and co-founder of the firm. She practiced family law for over 30 years. She is highly experienced in settling and litigating cases involving complex business assets and related issues; and in creating integrated solutions for wealth accumulation and preservation. Ms. Bank has served as general counsel to high net-worth clients.
Listed in Woodward White's The Best Lawyers in America, she has been consistently peer-rated in Washingtonian magazine among the top divorce lawyers in the region for "her mastery of the intricacies of equitable distribution of property law…" "…Few divorce lawyers have as much balance and perspective as Rita Bank.…"
In commenting on her style, a professional colleague said, "I have often marveled at your low key professional approach. In a specialty in which emotions run high, your calmness is the perfect antidote and has obviously been effective."
She has been praised as one of the creators of and a volunteer mentor at the District of Columbia Bar's Law Firm Pro Bono Clinic.
Additional Details
Columbus School of Law, Catholic University, J.D. 1978
Hunter College, City University of New York, B.A. 1967
District of Columbia
Maryland
+
Professional Affiliations
American Academy of Matrimonial Lawyers, Fellow
American Bar Foundation, Fellow
American College of Trial Lawyers, Fellow
Board of Governors of the District of Columbia Bar, Member
Women's Legal Defense Fund (now Partnership for Women and Families), Past President
District of Columbia Bar, Former General Counsel
Board of Visitors of the Columbus School of Law, Catholic University, Member
National Institute for Trial Advocacy, Instructor
Woodward White's The Best Lawyers in America

Washingtonian magazine The Best Lawyers in America